I could have joined the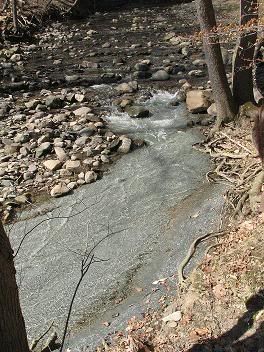 300,000 people for the St. Patrick's Day parade yesterday, but I decided I'd take advantage of the fact that more people downtown meant less people everywhere else. We started off the day with a trip to the
art museum
. They're in the middle of a massive construction project, which has really cramped my museum rat style. For the last four years, little to none of the art has been on display. It's finally coming back, with three years left to go on the project. I'm so pleased. Something about the wandering flow of an art museum speaks to my spirit's craving for peace. Drifting in simplicity from one room of discovery to the next. A gaze here. A prolonged soaking there. I think there's so much lack of art appreciation in the world, because most people know art only through photographs.
Nothing compares to standing in front of the real thing. Squinting at the brush strokes. The layers of paint piled up in three dimensions. Viewing the lines from one angle, and then seeing them with a completely different meaning from the other side of the room. The piercing eyes of a sculpture looking directly into your own. Imagining the subject. The artist. The moment. A concrete, tangible piece of God. All truth and beauty come from God, so even if the person claims not to believe in Him, their creation does. Man is capable of greatness only as a reflection of the Creator. The splendor of man is the splendor of God. Every time I look at a masterpiece, I thank God for sharing Himself with me through the genius of a temperamental painter. His touch is everywhere---if only you look for it.
Afterward, we went on a picnic. The sun was so bright. Spring finally came, even though I don't believe it's here to stay just yet. I'm sure old man winter has one or two more tricks up his sleeve. We went to one of our favorite parks. One we don't get to visit very often, since we moved to the other side of the metro area. Two creeks converge at this spot, and the beds of them are lined in a startling, blue-gray shale. We ate our Lenten feast of peanut butter in silence, our gazes lost in a small waterfall. As the children went off to play, I attempted to capture the gleaming sunbeams in the water. I accidentally caught my own shadow in the picture, and that was all I could think about for the rest of the trip.
I looked so different in my shadow. My headcovering especially jumped out at me. I saw myself clearly. I wasn't fighting the urge to critique my smile or weight like I normally would in a photogra
ph. I couldn't see any of those things. All I saw was my life in silhouette. And it was beautiful.
My kids are growing up at warp speed. So different since the last time we visited this park. Lonna now too sophisticated to climb the hill with her brother. Jared actually brave enough to do it by himself. Hilary no longer afraid of the sw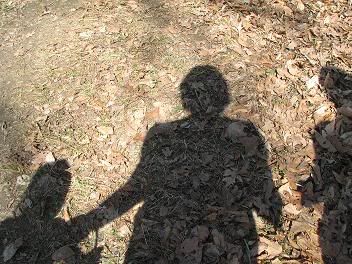 ings. I captured their youth in the shadows, and I held onto it, just for a moment.
I drove Lonna crazy snapping pictures of the ground as we walked, but that's O.K. Pretty much everything I do right now rubs her tween-ness the wrong way.
We all looked more defined in the shadows. Jared the protector. Peering from behind me. My two daughters. Two ends of a spectrum. The firstborn and the youngest.
And me. Not the woman I was last spring. I wonder what my shadow said then? Did it tell of my aching need to be obedient to something more than my own whims? Did it capture all my questions?
What is a woman? What does it mean to be feminine? More than bras and childbirth. There must be something more to how a woman talks, walks, feels, and speaks...
Did I even have a shape then? I remember feeling like a lost blob, shifting in and out of time and space, looking for center.
Have I found my definition yet? Who am I now? The edges look so crisp in my shadow, yet I still have so much left to face. I am far from obedient. I am far from humble.
I like the idea of the shadow, though. The unnecessary extras obscured. Like looking at the paintings. Viewing myself from a different angle. Better seen up close in person. The image of God. One brushstroke at a time.